TradingView Review: Features, Details & Pricing! [2023]
7 Sep, 2023 · 18 min read
TradingView is one of the market leaders for technical and fundamental analysis, stock charting, market indicators, alerts, and social trading. 
In this TradingView review, we'll cover everything about the platform, from its features to pricing, and provide a valuable overview for our community.
In 2023, CoinTracking partnered with TradingView to enable more market metrics for cryptocurrencies on our platform and open more use-cases for crypto investors.
Let's jump into this TradingView review.
What is Tradingview?
TradingView is the premier outlet for market analysis, from stocks to forex and crypto, enabling investors to track the market, benefit from advanced market indicators, charting options, a vibrant social trading community, alerts, and more.
TradingView is the leader in the financial analysis industry, helping over 50 million investors worldwide and boosting more than 10 million trading ideas across its communities.
Who is TradingView for?
TradingView is available for financial market enthusiasts, professional investors, and traders, given its wide range of features aligned with an easy-to-use interface.
TradingView offers a free plan for investors to start boosting their market analysis abilities, while the three paid plans offer more charts, market indicators, price alerts, saved charts, custom formulas, exporting options, and more. Professional investors will find targeted features for their needs under the Ultimate plan.
How to signup to TradingView
To sign-up for TradingView free plan, you simply need to:
Go to the "Sign-up page"

Click the "Sign-up" button on the top right of the page (no credit card needed)

Choose one of the sign-up options, from Google to Facebook and Twitter, or with your email address

Select your username

Tick the "I have read and agreed with the Terms of Use and Privacy Policy" box
TradingView features
Charts
Charts on TradingView are the home of the platform, giving you a detailed view of the evolution of all assets in graph format. On TradingView's charts section, you can choose an asset, from stock to cryptocurrency, and choose several time frames, candle types, market metrics, indicators, and strategies.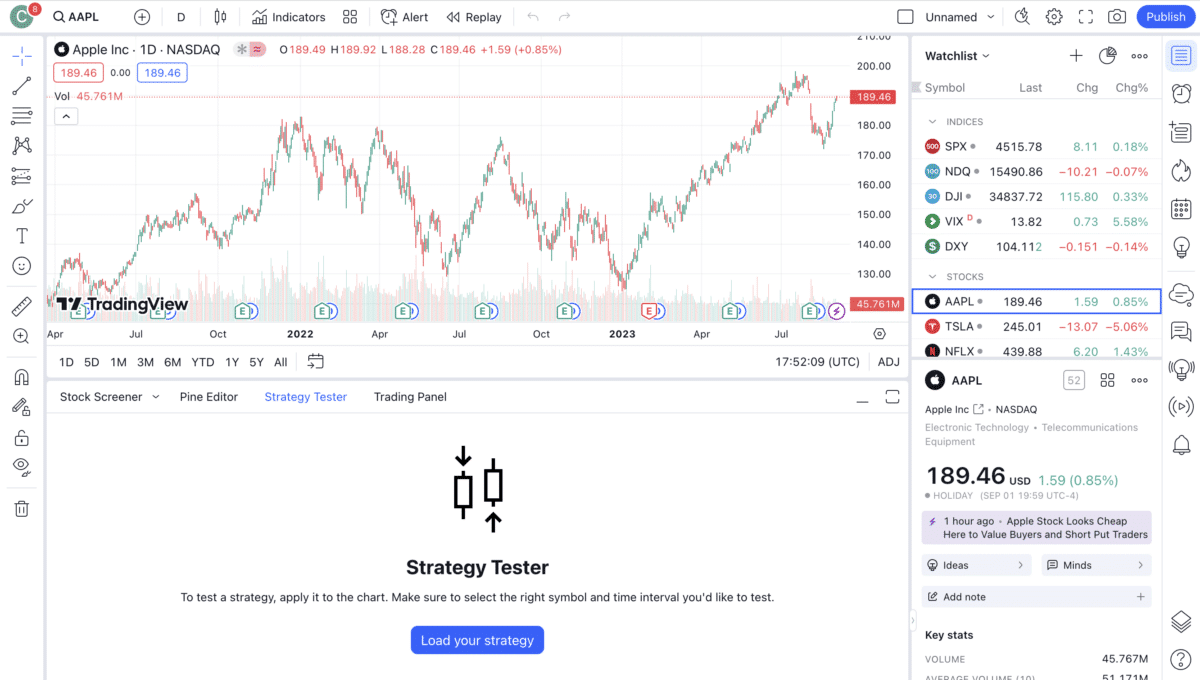 On the left side of the chart section, you have several options to draw your strategies and perform technical analysis, while on the bottom section, you can even load your strategies and connect to a broker to trade immediately. 
Screeners
Stocks
Stock Screener on TradingView gives you an overview of all the stocks you want to follow, with dozens of filtering options that target your specific needs.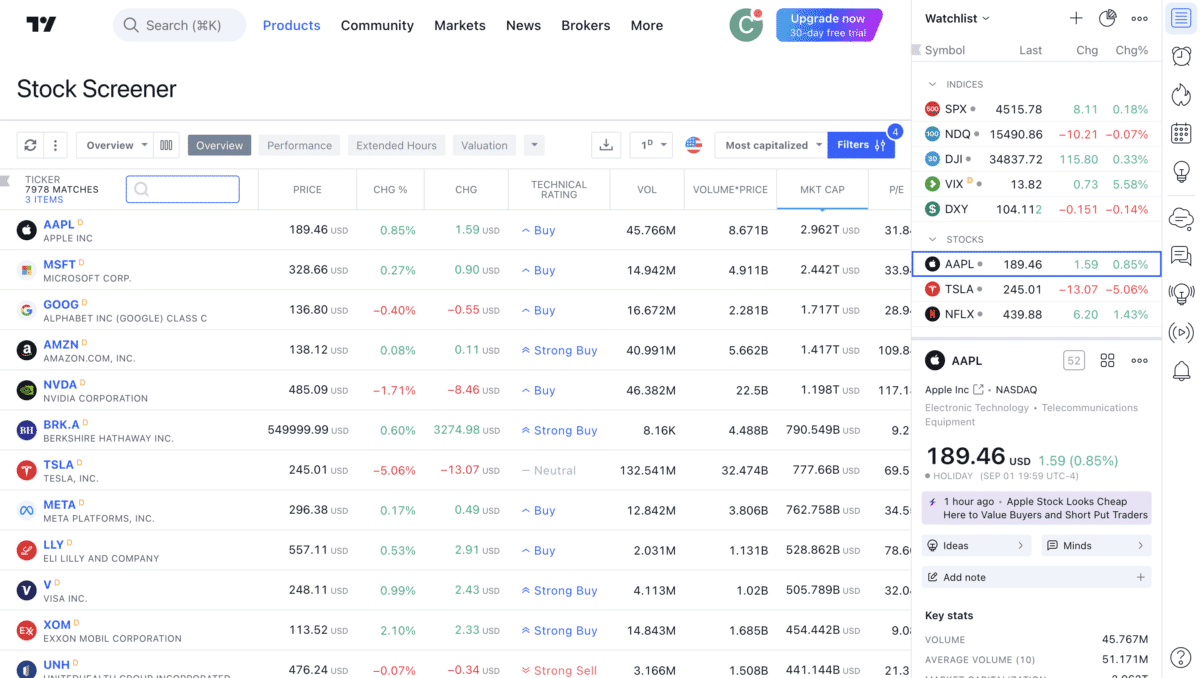 Beyond showing major metrics, from price performance to volume and market capitalization, you can filter the type of stocks you want to screen, from most capitalized to underperforming stocks. 
Under the Stocks 2.0 section, the usability is different, enabling you to view more options while having easy-to-use filters to change across segments of stocks.
Forex
You can also screen for Foreign Exchange (Forex) on TradingView, which has similar capabilities as if you were analyzing stocks. 
On the Forex Screener, you can check the change in each Forex pair, prices (e.g., bid, ask, low, and high), technical rating, and many other hidden filters that you can enable.
Cryptocurrencies
TradingView supports crypto investors with its screener feature, enabling them to track over 40,000 pairs across crypto exchanges.
You'll find several market metrics for each crypto pair, from daily price change to volume, with dozens of filtering options for more advanced analysis.
Alerts
With TradingView's alerts, you can get notifications for the specific criteria you've set up on your account regarding the market.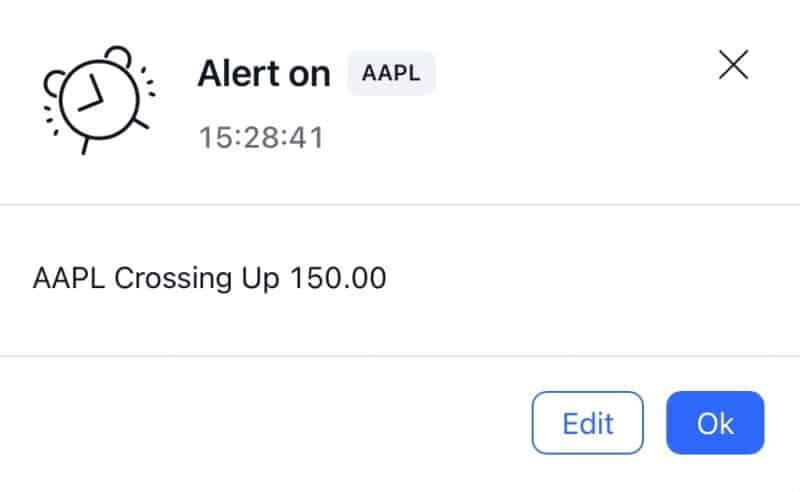 From price alerts to strategy alerts or one of 1,000+ market indicators that you can track on TradingView.
Heatmaps
Heatmaps are a great tool to get an overview of how a particular group of stocks or other assets are performing in real-time or in a desired period.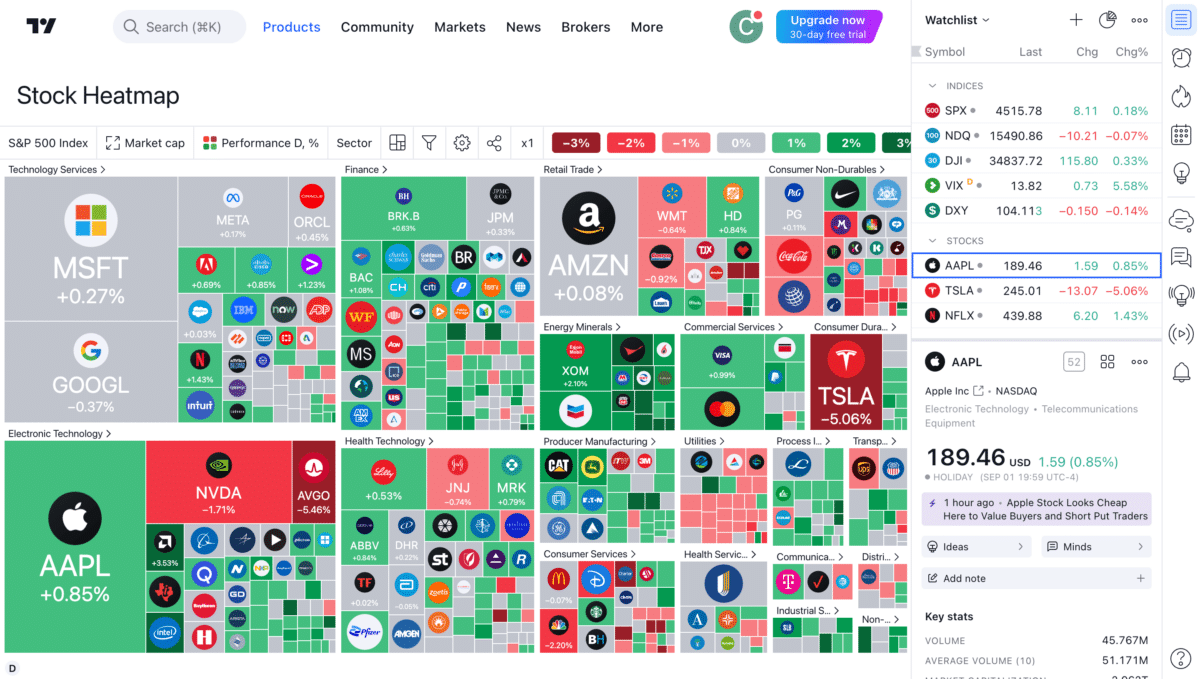 If you're following a market index like the S&P 500, it could be a great feature on TradingView to get a grasp on the market conditions. Heatmaps are also available for assets like Forex.
Drawing tools
Drawing tools on TradingView are some of its best features, enabling investors to play around with multiple strategies and scenarios for their trading plans.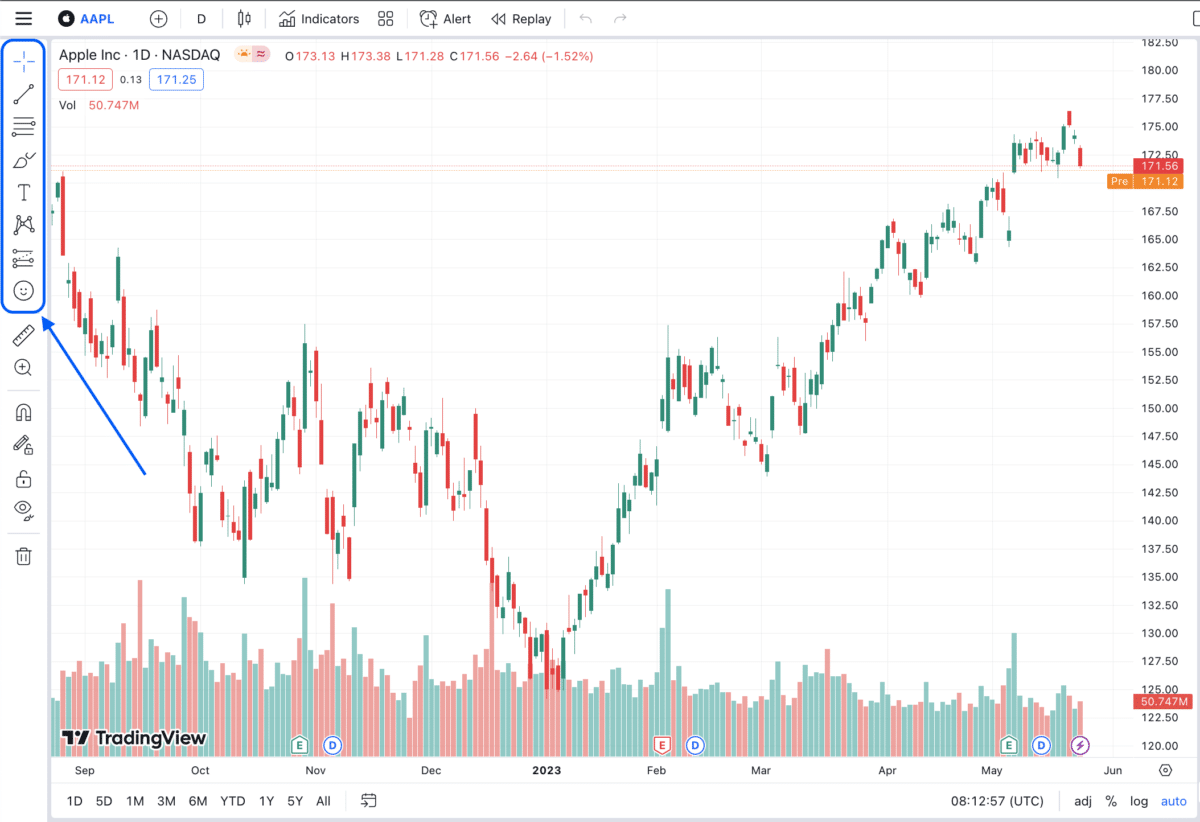 Drawing tools are available on the chart sections and for all the assets that TradingView supports.
Indicators & strategies
TradingView offers several indicators on the chart area of its platform, enabling investors to conduct in-depth fundamental and technical analysis.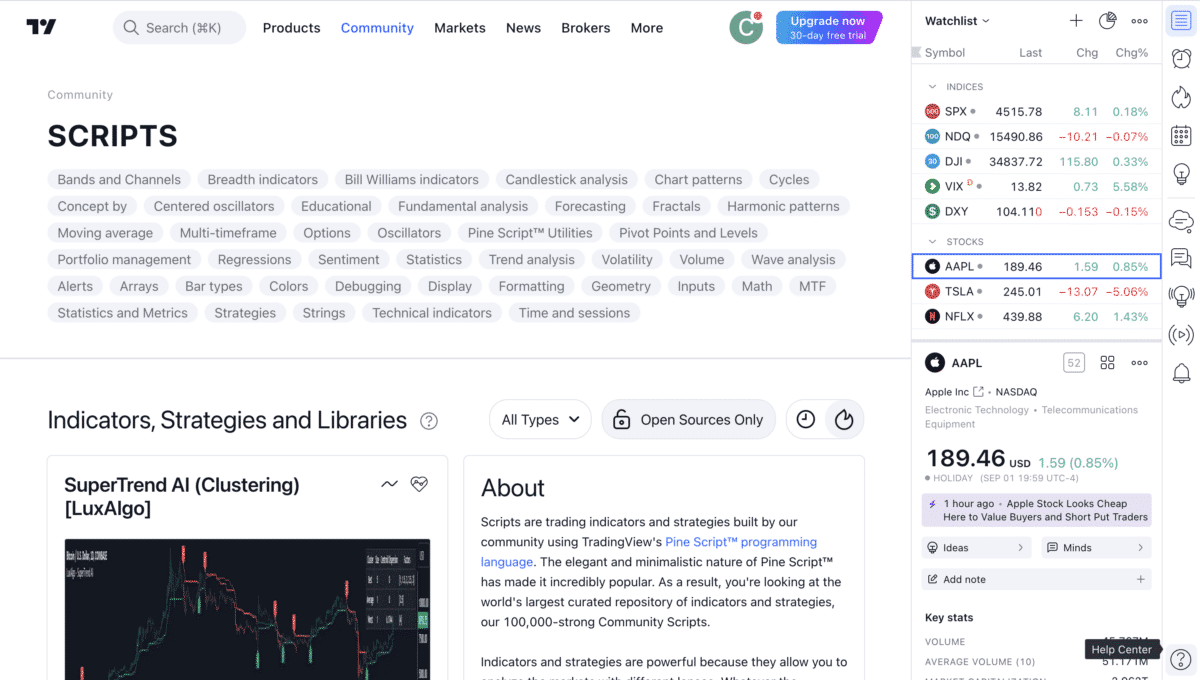 If you open the Indicators, Metrics, and Strategies tab, you'll have dozens of technical indicators and fundamental analysis metrics. 
Markets
TradingView offers access to all the major assets, from global stock indices (e.g., S&P 500, Nasdaq) to currency pairs, cryptocurrencies, ETFs, and more.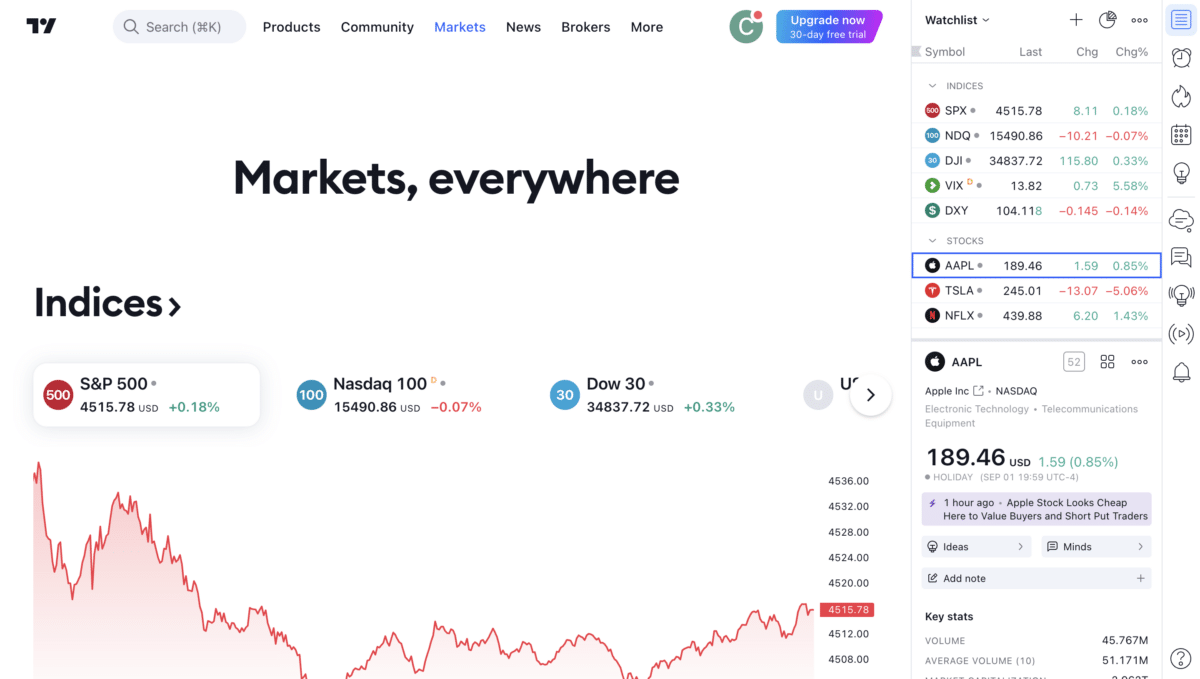 Other features
There are several other features on TradingView that can help investors with their strategies, including:
How TradingView is better than alternatives
Broker integrations
TradingView enables brokers, from stock providers to crypto exchanges, to connect to TradingView and enable users to trade directly from their interface.
TradingView currently supports the major brokers, including:
Activtrades

Binance

Bitget

Bitstamp

BlackBull Markets

FOREXcom

Gemini

iBroker

Interactive Brokers

OKX

Optimus Futures

Saxo

Velocity

WH Selfinvest and many more!
Scripts
You can automate your trading strategies and ideas with custom scripts directly in your TradingView interface, sit back, relax, and enjoy the performance of those ideas. 
You'll be able to set up your own scripts with TradingView's native language, Pine Script.
Paper trading simulator
Paper trading is a great feature for beginner investors to start with a fake account of $100,000 and start executing their strategies with real market data. 
The TradingView community is also a great place to share ideas and learn from more experienced inventors while executing your own strategies. 
Investor livestreams
TradingView features thousands of hours of video content, including live streams, from popular community analysts and traders. 
Technical Indicator Gauge
The Technical Indicator Gauge gives you a buy, sell, or neutral signal based on an asset's moving averages and oscillators while giving you a summary for that particular asset. This is a great compliment to your own analysis.
Community
One of the biggest differentiators from TradingView is having the largest community around investing, with 10m+ published ideas.
TradingView pricing
TradingView free plan
The great thing about TradingView is that you can access the crucial features of the platform, draw your strategies, set up alerts, and much more under the free plan.
For beginner investors, the free plan is perfect for drawing your first strategies, tracking major market indices or cryptocurrencies, and tapping into the knowledge hub of the TradingView community. 
TradingView paid plans
Pro
The Pro plan on TradingView costs $14.95/month, enabling investors to ditch the ads and improve their capabilities on the platform, including:
Five indicators per chart

Two charts in one layout

20 active price alerts

20 active technical alerts on indicators/strategies/drawings
Pro+
The Pro+ plan on TradingView will set you back $29.95/month, with the main difference from the Pro plan being the increased capabilities on the main features (100 active price/technical alerts, 10 saved chart layouts) and new options like:
Intraday exotic charts

Charts based on custom formulas

Chart data export
Premium
Premium is the most expensive paid plan on TradingView for day-to-day investors, costing $59.95/month. With this plan, you can 25 indicators per chart, go from 100 to 400 active price/technical alerts, and some new adds-ons like:
Alerts that don't expire

4x more data on charts (20K bars)

Publishing invite-only indicators
Under annual plans, users can save 16% on their subscriptions.
Ultimate
The Ultimate plan on TradingView is designed for professional investors, providing access to institutional-grade data, with a subscription of $499.95/month.
TradingView pros & cons
TradingView Pros:
Features:

 TradingView is the most complete market analysis platform, even if you're under the free plan.

Paper Trading:

 Aligned with all the technical and fundamental analysis metrics, the ability to simulate trading is great for the millions of beginner investors who use TradingView.

Broker connection:

 One of the best features of TradingView is the ability to connect brokers, from stock brokers to crypto exchanges, to trade directly from your interface.

Community:

 TradingView has the largest repository of content around financial markets, with 10m+ published ideas. 

Scripts:

 TradingView offers the ability to draw your own strategies and customize them, including alerts, with scripts.
TradingView Cons:
Vetted professionals:

Despite having a great library of video and written content, the platform lacks vetted professionals providing content on a wide scale.

Usability:

Given the number of features on TradingView, the usability of some parts of the platform may seem a bit too crowded sometimes, even though most of the features are seamlessly integrated.

Support: Only paid subscribers can access personalized support
TradingView alternatives
Web-based software
Here's a comparison of TradingView and its competitors regarding major product features:

Scale: 1 – Bad; 5 – Great
TradingView mobile app review
TradingView has a mobile app where you can do your market analysis. Under the free version, you'll have some limitations and ads, but you can still fully use the product. You can also subscribe to the paid plans on your mobile app, with the full suite of features available.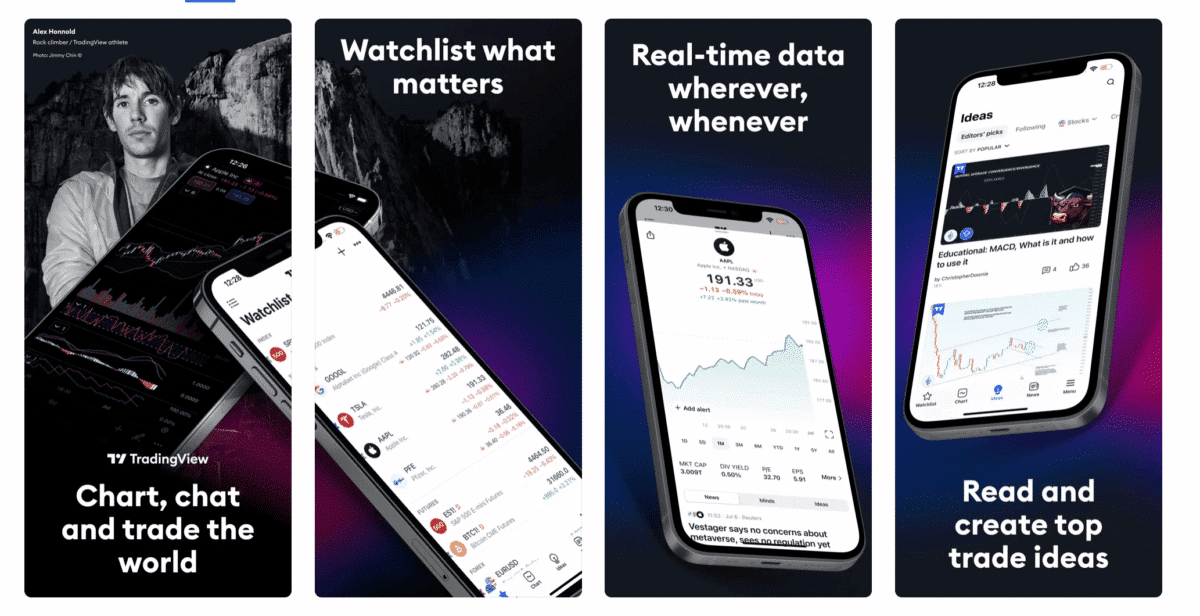 The mobile app is currently on the AppStore (iOS 15.0 or later) with a 4.9 rating and on Google Play (Android 7.0 or later) with a 4.9 rating.
Frequently asked questions
about TradingView
Conclusion
TradingView is a great platform for investors to conduct their technical and fundamental analysis, share trading ideas, and be on top of all the changes in market conditions across assets. 
With our partnership with TradingView, CoinTracking users can enjoy the best market metrics on our platform powered by TradingView.
If you are looking to enter the crypto world, the joint forces of CoinTracking and TradingView will get you all the market analysis and portfolio tracking skills you'll need.